JOSEPH MUKWANO FOR EVER HIS VERY FIRST TIME.
---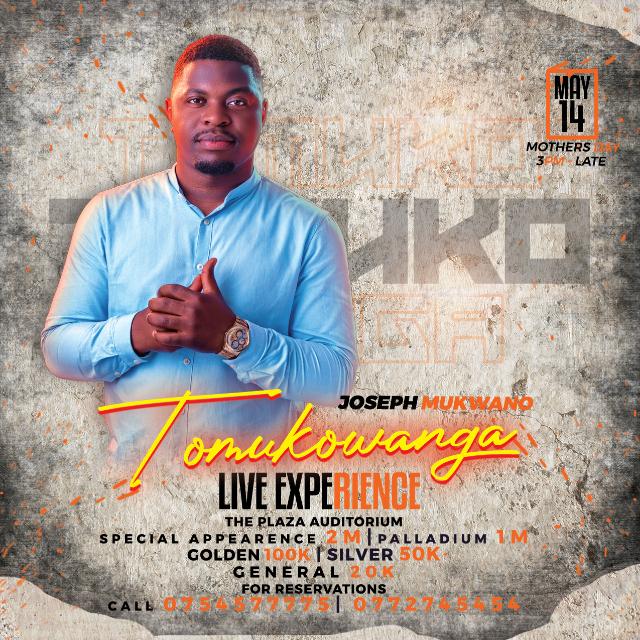 JOSEPH MUKWANO FOR EVER HIS VERY FIRST TIME.
Joseph Mukwano will be launching his new song "Tomukowanga" for his very first time.
Tomukowanga is a encouraging deep song with great emotional message that will make you cry grab it for yourself on his channel, and For more information don't miss it's launch on 14th May at The Plaza Auditorium In Kampala opposite KCB Bank.
Link on the Bio...
Joseph Mukwano in his original names is a Born Again Christian, Pastor,
Journalist by profession and a Business man from Go Smile" Estate seguku, he is a Gospel song Composer, Writer, Editor, and he has written for many top Gospel artistes, singles and choirs as well.
Joseph is the Team leader of all Mission Churches in Uganda, President of the Reaction Band, Lead pastor of Mission Church Kampala, CEO of Open Hands Initiative (Charity ministry), Director of Mission Medicals.
Joseph Mukwano is one of deep voice vocalist, Spirit filled Artist with 10 songs now, songs like Wooli, Oneewunyisa, abasajja bali, abantu banene, Nesiga mukama plus others
Joseph Mukwano is born of Pr Jamada & Tappy Kiyingi, he is a brother to the well known Powerful Gospel ministers "Pr Jeanpeace, Pr Justine Nabbosa, and Ap Jonathan Babara.
Joseph Mukwano is one of lovely and friendly minister just like his name "MUKWANO"
Let's support him on this we be glad to see you their own 14th May.
#JosephMukwano.
#GmpPromotions.
---
LEAVE A COMMENT
LIKE GOSPEL MUSIC ON FACEBOOK :
This Week's Top Song
Luganda Gospel Nonstop | GMP Promotions
Downlod Song Play Song