End Times Riddim Officially Released + Story Behind
---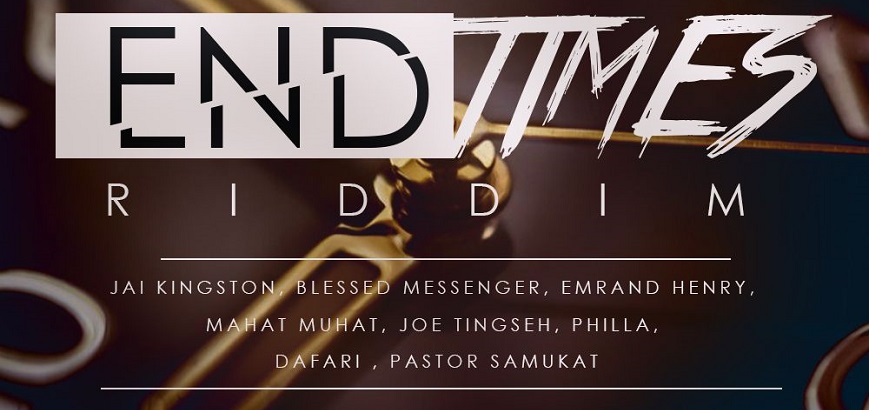 Moz B Production and DJ Achiever have officially released the official End Times Riddim.
Here is the story behind the whole riddim.
END TIMES RIDDIM
The instrumental was produced by (Moz b) one of the gifted producers in Uganda famously known for being behind Phila's music; initially the instrumental was to feature a single song (666 by Phila). But upon receiving the demo of the song, I (Dj achiever) felt that the track was very big and it could attract great ministers so with the permission of Moz b and Phila, I (dj achiever) took up the task to distribute the track to ministers from Africa and the Caribbean, we managed to gather a team of 8 balanced solid ministers some who have been in music ministry for a while and a new crop of uprising ministers. 4 from Kenya (Dafari, Mahat Muhat, PST Samukat, Tingseh), 1 from Uganda (Phila), 1 from St Lucia (Emrand Henry), 1 from Jamaica (Jai Kingston), 1 from Trinidad n Tobago (Blessed Messenger).
WHY THE NAME END TIMES?
We settled for the name end times since we wanted to have suitable theme that would be addressed by the ministers on the project and we thought why don't we talk about the last days since the biblical prophesies that were prophesied many thousands years ago are coming to pass now in our generation as found in the few scriptures below (2nd Peter 2:1-3, Matthew 22:21-24, Zechariah 14:12, 1st Thessalonians 5:3, Mark 13:7-8 and Luke 21:10) so the main aim of the project is to call on God's people to repent and go back to God through His son Jesus Christ (john 14:6) and be assured of eternal life.
WE WANT TO TAKE THIS OPPORTUNITY TO THANK GOD ALMIGHTY FOR MAKING THIS PROJECT POSSIBLE AND A MAJOR SUCCESS BEYOND OUR EXPECTATIONS AND ALSO THANK ALL THE MINISTERS WHO DID LET GOD USE THEM TO BE PART OF THIS PROJECT
CREDITS TO THE FOLLOWING PRODUCTION HOUSES MOZ B PRODUCTION BEING THE MAIN GUY BEHIND MIXING AND MASTERSING THE FILES LAX ENT (BEN C) IMAGE RECORDS SILVER TOUCH STUDIOS GRAPHICS DESIGN N PACKAGING G52 INSPIRATIONAL(SKAM ZAC)
You can download the full End Times Riddim + Medley HERE
And the Official End Times Riddim Medley HERE
---
LEAVE A COMMENT
LIKE GOSPEL MUSIC ON FACEBOOK :
This Week's Top Song
Way Maker mp3 | Sinach
Downlod Song Play Song