DJ Musa Presents Gamba22 Festival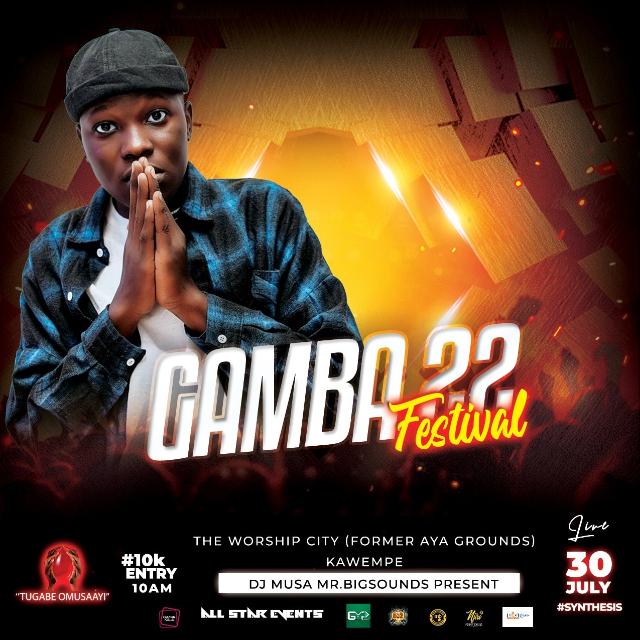 EVENT DATE: 2022-07-30 00:00:00
EVENT TIME: 00:00:00 (EAT)
Kampala
00.0
AUTHORISED SELLER
AUTHORISED RESELLERS
PERFORMERS
xxxxxx xxxxx
xxxxxx xxxxx
DJ Musa Presents Gamba22 Festival
Dj Musa Mr Big Sounds Presents Gamba22 Festival at The Worship City Church (Former Aya Grounds) Kawempe.
The Gamba Festival22 Is Back in another style, come expecting alot of fans ft. Most your favorite Gospel Artists
Gamba Festival22 today Stands on Blood Donations saving someone's life out there, Themed "Tugabane Omusaasyi" DJ Musa is a living example aboi this move few months back when gotten sick in a point of death the was a lack of blood in him and they looked for blood everywhere to save his life but finding blood was really difficult.
So he decided to do this for the Good Of Nation and Gospel as well. "I am alive now Christ Saved me Life is not easy, I Have to Testify" DJ Musa Says" just get yourself 10k with you come we party.
30th July at The Worship City Church (The Former Aya Grounds Kawempe) Don't Miss move the good news tell a friend to tell a friend.
#DJMusa Mr Big Sounds
#Gamba22 Festival
FEE
---
---
Event details may change at any time, always check with the event organizer when planning to attend this event or purchase tickets.
Comments about This Event
LIKE GOSPEL MUSIC ON FACEBOOK :
This Week's Top Song
Luganda Gospel Nonstop | GMP Promotions
Downlod Song Play Song