Unforgettable Experience with Rhapsody of Realities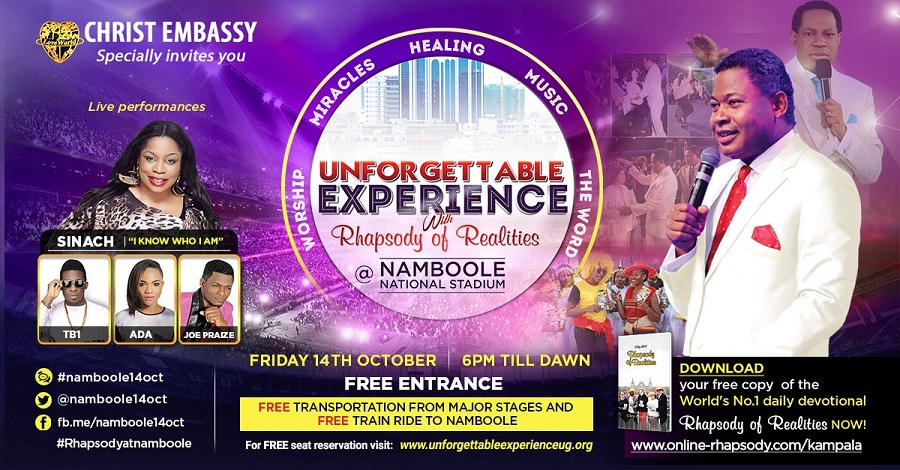 EVENT DATE: 2016-10-14 18:00:00
EVENT TIME: 18:00:00 (EAT)
Namboole
AUTHORISED SELLER
AUTHORISED RESELLERS
PERFORMERS
xxxxxx xxxxx
xxxxxx xxxxx
Unforgettable Experience with Rhapsody of Realities
CHRIST EMBASSY presents UNFORGETTABLE EXPERIENCE.
A night of signs, wonders and miracles. It's your set time for a change and transformation by the Word.
Live performances by SINACH (I KNOW WHO I AM), JOE PRAIZE, ADA, TB1, and the soul-stirring RAP NATION!
The World's #No.1 Daily Devotional, Rhapsody of Realities will be distributed FREE!
Come and have a once-in-a-life-time experience at Namboole National Stadium on the 14th of October, 2016 from 6pm to Dawn.
FOR FREE SEAT RESERVATIONS: http://www.unforgettableexperienceug.org/
Follow Our Online Community For Daily Updates And Stand A Chance To Win Exciting Prizes.
Follow on Facebook: namboole14oct
Follow on Twitter: namboole14oct
The Twitter Hash Tag is #Rhapsodyatnamboole
Come & get that miracle you have been waiting for as we sing, dance & receive a prophetic Word.
FEE
FREE !!
---
---
Event details may change at any time, always check with the event organizer when planning to attend this event or purchase tickets.
Comments about This Event
LIKE GOSPEL MUSIC ON FACEBOOK :
This Week's Top Song
Nyamba | Twina Herbert
Downlod Song Play Song