Stand Up Stand Out 2016 Youth Conference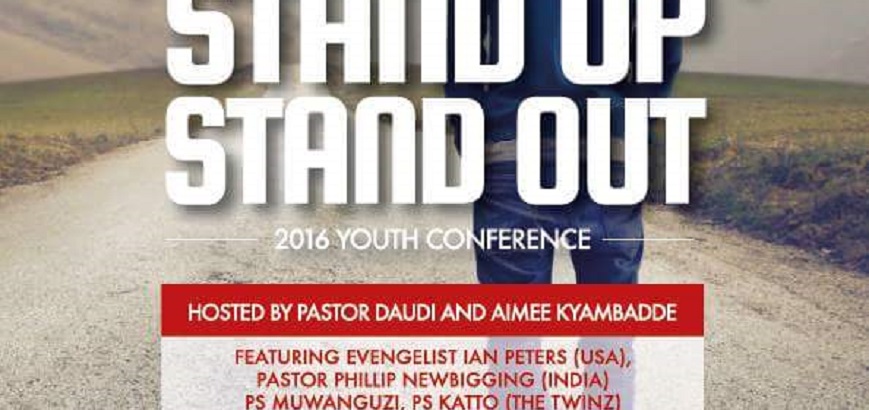 EVENT DATE: 2016-08-26 09:00:00
EVENT TIME: 09:00:00 (EAT)
Lubowa
xxxxxx xxxxx
xxxxxx xxxxx
Stand Up Stand Out 2016 Youth Conference
"STAND UP, STAND OUT YOUTH CONFERENCE" comes each year with a different theme, and this year's theme is ''GETTING DEEPER IN THE SPIRITUAL REALM''.
The conference happens once every year at RESURRECTION LIFE CHURCH LUBOWA, located 200 metres off Entebbe road, branching off near ZANA round about; and this is the 5th year of this powerful, fun-filled, gathering.
The whole purpose of the conference is to call this generation to STAND OUT FROM THE CROWD AND STAND UP FOR JESUS AND THE TRUTH OF HIS WORD.
ROMANS 12.2 (AND DO NOT BE CONFORMED TO THIS WORLD, BUT BE TRANSFORMED BY THE RENEWING OF YOUR MIND, THAT YOU MAY PROVE WHAT IS THAT GOOD AND ACCEPTABLE AND PERFECT WILL OF GOD) [kjv]
We are called to STAND UP for JESUS and STAND OUT from the CROWD by REFUSING to CONFORM to the STANDARDS OF THIS WORLD.
THIS CALL IS MUCH NEEDED. Looking at the current times and turn of local and global events, we are experiencing great moral decline, aggressive promotion of evil, unprecedented sexual perversion of great magnitude, and rampant deception in the media.
But there's hope; and VICTIMS WILL TURN INTO VICTORS!
Mixing great worship, amazing performances from the best Christian entertainers with deep ministry of the WORD from seasoned local and international guest speakers, this power-packed three-day gathering is poised to UNLEASH God's TRUTH that will both set the captives free, and also push back the darkness in a radical way!

Time Table
WEDNESDAY: 24th full day, 9am to 5pm
THURSDAY: 25th full day, 9am to 5pm
FRIDAY: 26th, Half day , then break off and return for MEGA OVERNITE in the evening from 6pm till 6am.
HOSTS: PASTORS DAVID and AIMEE KYAMBADDE
All this is Hapenning at RESURRECTION LIFE CHURCH LUBOWA
For more information, contact: 0779223970. Come and be blessed.
FEE
FREE !!
---
---
Event details may change at any time, always check with the event organizer when planning to attend this event or purchase tickets.
Comments about This Event
LIKE GOSPEL MUSIC ON FACEBOOK :
This Week's Top Song
Prophecy | Exodus
Downlod Song Play Song